半田晴久/深見東州 海外での評判
Father of blind golf, Haruhisa Handa pushing for Paralympic place
Posted on: 29 Jun 2012, 04:45 PM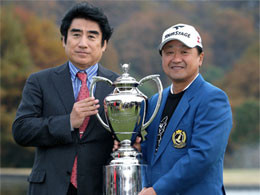 Singapore: Japanese businessman Haruhisa Handa is so keen for golf to be included in the Paralympics that he is bankrolling 28 professional and amateur tournaments around the world to get his message across.

Through his International Sports Promotion Society (ISPS) set up six years ago in Tokyo, Handa sponsors events on the European, Ladies European, Senior European, Asian, Japan and Australian Tours - expensive advertising for his simple message.

"This is my life work, maybe that is why I am involved in so many tournaments," Handa said in an interview.

"Always help to promote disabled golfers and blind golfers. I am a father, getting old, but, thanks to golf, getting young."

While the International Olympic Committee (IOC) voted to include golf in the 2016 Rio de Janeiro Games, the International Paralympic Committee overlooked the sport and decided to include triathlon and canoeing for Brazil.

Dr Handa hopes his powers of persuasion can get golf into the 2020 Games but admits it will not be easy.

"There is some prejudice we are challenging," he explained.

"When it comes to Paralympics, I think sports look and think (golf) is too luxurious but you can play golf with a minimum budget. In Australia and America they play well and cheaply. There are many golf courses and people help them to play." 
'WOW'
The 61-year-old has a long history helping blind golfers.

Shortly after taking up the game at 37 he was introduced to blind Australian golfer Ron Anderson and played nine holes with him. 

Anderson won comfortably. 

"Wow, I was surprised," Handa said of his defeat at the hands of man with only five percent vision. 

"I have been involved in many project to support blind people in Japan since and I have never seen such a happy and optimistic and merry and joyful blind people so I was touched and came back to Japan and I established Japanese Blind Golf."

He helped form the International Blind Golf Association a decade later and there are now 15 countries and 17 organisations involved with six events planned this year in Scotland, Canada, Italy, the United States and Australia.

Handa said these tournaments were run in a similar way to normal competitions but with two main differences.

Caddies are allowed to put the club of the blind golfer behind the ball at address, and players are allowed to ground their club in bunkers before hitting their shot.

Handa hopes publicising blind and disabled golf can draw financing from other wealthy benefactors to support his campaign.

"I play with them and I always say: 'Mr Handa is the father of blind golf in Japan, (and) gradually must be the grandfather of golfers in the world'. 

"I hope more and more friends collaborate ... to make more and more good golfers."

At the ISPS Handa Faldo Cambodia Classic on the Asian Tour in March, the jovial Japanese brought along two golfers who had lost limbs during the war in Afghanistan to showcase the abilities of disabled golfers.

"Wow, people were surprised and touched a lot (to see) such people enjoy golf ... and the performances of the disabled golfers," Handa said.

"They don't know they exist, they don't know the possibility that blind people can play golf well."