半田晴久/深見東州の海外での評判 Dec 6, 2009
The Handa Cup and Dr. Haruhisa Handa 「Golf Girl's Diary」
The fun, flirty, fashionable golf blog - We cover golf for women & men... competitive players & casual fans. Golf is our passion.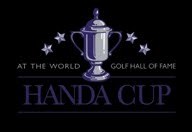 A couple of weeks ago I wrote about the Legends Tour and their first major, won by Sherri Steinhauer. 
Well, the legendary ladies were on course again this past weekend in St. Augustine, FL, for the fourth edition of the Handa Cup. 
The Slammer & Squire course at World Golf Village was the setting for this international team event that pits a US team against an International one, based on a similar format to the Presidents Cup, and Team USA... captained this year by by Kathy Whitworth... took the trophy for the fourth consecutive time. Her Legends Tour team included seven Hall of Famers. Results and photos from the event can be found on the Legends Tour website with additional reporting on the LPGA's website and FrontPageGolf.
In reading about the Legends Tour and their events over the past few weeks, I learned about the extraordinary and inspiring Dr. Haruhisa Handa who, with his company International Sports Promotion Society (ISPS), is title sponsor of the Handa Cup.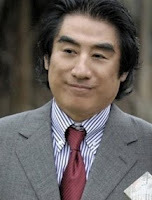 Dr. Handa has been involved in international golf for almost 25 years, advising professional tours and sponsoring tournaments. He's the Honorary Chairman of the Legends Tour and an advisor to the European Senior Tour. He's also Chairman of the Women's Senior Golf Association and was recently made an official Patron of Golf Australia. Dr. Handa has been called the "Father of Blind Golf" for having founded the first blind golf club in Japan and for his dedication to International Blind Golf. 
The thing that's amazing is that this just scratches the surface of the remarkable Japanese businessman's golf involvement. And the thing that's even more amazing is that Dr. Handa is also is also an accomplished composer, calligrapher, author, Noh actor, motivational speaker and opera singer. His philanthropic work has a global reach with projects in many countries. And again there's much more than that. 
That's why I'm definitely planning to write more about Dr. Haruhisa Handa in the near future. He's a true Renaissance Man and the golf world is very fortunate to have his support.
5 comments:
• beaverbooshDec 7, 2009 02:42 AM
Thanks for the intro to this most amazing man!
• HeatherDec 7, 2009 03:20 AM
It's really nice to read an article about someone's positive efforts to advance the game about golf. It still amazes me to think about folks that are blind playing golf. That is just so cool.
• MikeDec 7, 2009 07:50 AM
And thanks for the link to the LPGA Legends site!
• MarcomanDec 7, 2009 11:43 AM
Yes, something inspiring and pro-golf is a nice change from everyone trashing Tiger Woods.
• golf and golf equipmentDec 8, 2009 09:03 AM
another cool post,thanks again for sharing
Founder of Golf Girl Media, editor at Golf Girl's Diary and author of Golf Girl's Little Tartan Book. ~ Living happily where golf meets new media.